Visit each sports page for more information regarding a particular sport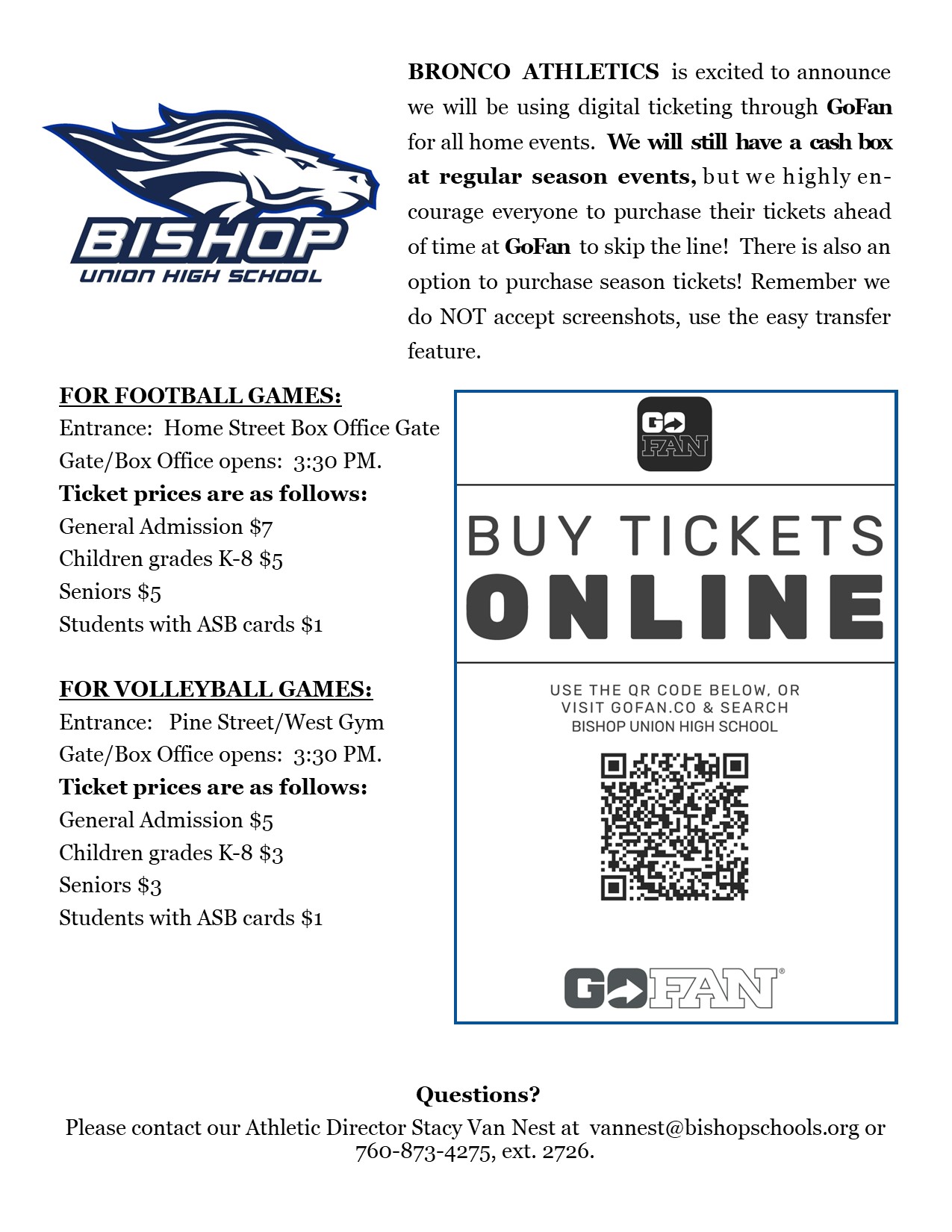 YOUR PHYSICAL PACKET MUST BE COMPLETELY FILLED OUT WITH REQUIRED SIGNATURES AND ON FILE IN THE MAIN OFFICE TO BE ELIGIBLE TO PARTICIPATE IN THE 2023-24 ATHLETIC SEASON. THIS INCLUDES PARTICIPATING IN ANY ATHLETIC ACTIVITY (WORKOUTS, TRAINING, PRE-SEASON PRACTICE, SUMMER TOURNAMENTS, ETC.).
PARENTS: REMEMBER, FORM E (PHYSICAL EXAMINATION) IS VALID FOR ONE CALENDAR YEAR FROM THE DATE OF THE ACTUAL PHYSICAL EXAM. HOWEVER, THE REST OF THE PACKET MUST BE FILLED OUT FOR THE 2023-24 SCHOOL YEAR. IF YOU HAVE ANY QUESTIONS, PLEASE EMAIL OUR ATHLETIC DIRECTOR, MRS. STACY VAN NEST ([email protected]).
BRONCO ATHLETES! Your grades & daily attendance are important to remain eligible to participate in practice or a game! Remember, being a BRONCO athlete is a privilege, not a right. Thank you for your commitment to the rigors of being a BRONCO ATHLETE!!
If you are taking a sick day or going home sick, you are not permitted to attend practice (or a game) that day.

If you have a Doctor appointment, a Doctor's note is imperative to remaining eligible for practice (or a game) that day.

On Travel Days and Game Days, you must remain in all classes (no tardies) all day or until your departure time

.Your attendance at school the day after a game (Home or Away) is important and also monitored.

Detentions! You must serve as assigned and any conflicts with practice and game days must be discussed with Mr. Moisant.
Myers-Stevens, Toohey Student Insurance Student Accident Insurance is now more important than ever. Despite your best efforts to protect them, students get hurt and out-of-pocket expenses for medical care can be significant. If your student is already covered, your current plan has a large deductible and/or you want to be able to see the doctor that YOU choose . . . visit their website (www.myers-stevens.com) for find more information on options, pick up an information packet in the BUHS main office or click on the links below!