The Bronco Student Center may no longer house books (not to fear - they are located in our Library!), but it is still intended to be a portal to information. Alas, the wake of the printed word has given rise to a digital age of information. Allow yourself to be introduced to the great world of the digital database!
Each of the icons below will redirect you to a database to which BUSD has access -- some thanks to Inyo County, others thanks to the California State Librarian. These subscriptions have been paid for because any student wishing to pursue post-secondary education needs to know how to navigate these databases; they are, in many ways, the libraries of the digital age.
If you click on these icons while on campus, you should have immediate access. If you want to access them from home, please contact the LMT at x2775 for the remote access information.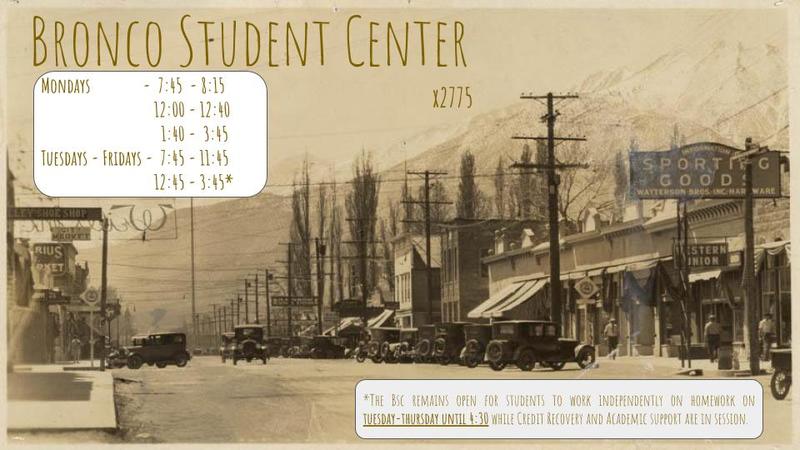 Sending students to the BSC during the day? Please be punctilious about using the BSC pass when sending students to the Bronco Student Center during class time. Following this protocol helps to ensure that we can foster a culture of productivity. The form is available, but only to be viewed, so you'll have to make a copy of it and save it on your own drive.
Want to reserve a space in the BSC? Reservations are now being done via Google Calendar. Each of the reservable spaces in the BSC have their own calendar, visible on your google calendar under "other calendars" (by clicking the arrow to the right, you select which calendars you want to view by ticking the boxes). Directions for how to reserve a space using the calendar is available here (in slides - more visual, less words) and here(in a document - more words, also with images).
If you need help setting up the projector, click here for a quick tutorial video.
Want to request an information session with the Library Media Tech (LMT)? Check out your options on the menu below. If you need more details about the content, anticipated time needs, etc., contact the LMT at ext. 2775.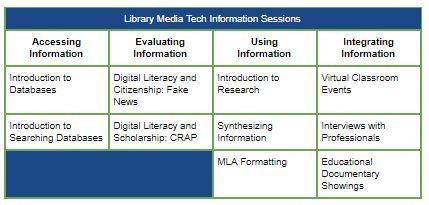 The BSC Calendar is available to a closed list of users at the bishopschools.org domain. If you don't have access but would like it, please contact the Library Media Tech (LMT) overseeing the center ext.2775 should you wish to reserve a space in the BSC.
For non-academic time use requests and availability information, please reach Lucy Terrasas at extension 2725 or email her at lterrasas@bishopschools.org.
If you need help setting up the projector, click here for a quick tutorial video (same restrictions apply as above; contact the LMT if you'd like access).
The Bronco Student Center is meant to be a place of productivity and collaboration, and first and foremost, a space for students.
Students may visit the BSC during class when sent with a pass from a teacher, and students pursuing independent studies use the BSC as their working space. Students are also encouraged to reserve space in the BSC when they require it; they are asked to see Miss Devine in the BSC or submit a paper form, (found here, printable), so that they may have faculty/staff physically sign in order to sponsor their use. Copies are also available in both the Book Room and the BSC.
The BSC is also open for you before school (at 7:45), during lunch and after school (see image above).
Note that CalSNAP, Proquest and Encycopedia Britannica require a username and password to access the databases remotely (that is, away from campus). Please see the LMT for this information.